Spicy Orange Salad, Moroccan Style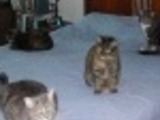 This recipe was developed in 1980 and appeared in an article in The Times by Craig Claiborne. It was reprinted recently. Olives and oranges, the article said, are one of those miracle combinations before which one should should bow in gratitude. :) Kalamata olives would be great for this.
Directions
Peel the oranges, paring away all the exterior white pulp. Cut each orange into 8 wedges. Cut each wedge into 1-inch pieces. Set aside.
Place the cayenne, paprika, garlic, olive oil and vinegar in a salad bowl. Add salt and pepper to taste and whisk to combine. Add the oranges, parsley and olives. Toss gently to blend. Serve cold or at room temperature.
Reviews
Most Helpful
Delightful & delicious. This was a quick side with Two-Cheese Panini With Tomato-Olive Pesto for lunch. I would definitely make it again. Thank you for sharing the recipe! :-)

Cheated with this one and skipped peeling the oranges due to laziness. Sorry, I had to substitute canned black olives because my husband found my stash of Kalamatas (earmarked for this recipe) and ate them. Substituted Spanish smoked paprika, too but I must warn you that if you sub Spanish smoked paprika use a very small amount or else it will overpower everything. Easy and good! Reviewed for ZWT 6.

Hi Kumsie, This is so nice you expect the salad to be kind of sweet but it's not, but it's not to sharp either, and while you eat it you can taste all the ingredients as you chew most unusual, for me anyway, but I really liked it. There wasn't anything in it I didn't like so I kind of knew I would like it. To have olives and oranges together makes perfect sense, as the grow side by side. Thank you for your wonderful recipe. Made for ZWT#6 2010.