Spicy Orange Salad, Moroccan Style
COOKGIRl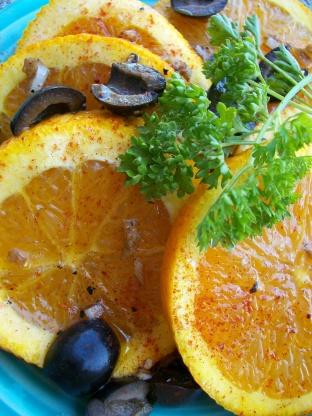 This recipe was developed in 1980 and appeared in an article in The Times by Craig Claiborne. It was reprinted recently. Olives and oranges, the article said, are one of those miracle combinations before which one should should bow in gratitude. :) Kalamata olives would be great for this.
Peel the oranges, paring away all the exterior white pulp. Cut each orange into 8 wedges. Cut each wedge into 1-inch pieces. Set aside.
Place the cayenne, paprika, garlic, olive oil and vinegar in a salad bowl. Add salt and pepper to taste and whisk to combine. Add the oranges, parsley and olives. Toss gently to blend. Serve cold or at room temperature.