Spicy Orange Lamb and Noodle Stir-Fry
chia2160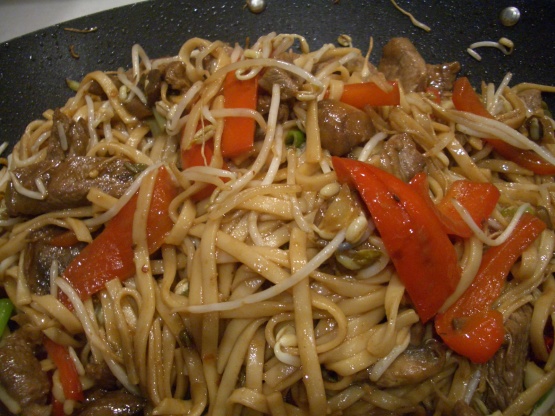 This is a wonderfully quick and easy meal to throw together, on the table in around 30 minutes, so the perfect, quick after work meal that has a great flavour. I have mentioned in earlier posts how busy I have been lately so I have been trying to come up with recipes that taste great and that do not require too much effort. This is a great one for that, I have also made an extremely tasty pasta recipe recently that I will be posting over the next couple of days.

Very good! The sauce portion of recipe was made exact, but to the 'goodies' ingrediants I added mini corn cobs, broccilli florets, red bell pepper chunks, green onions and because I was out of noodles, used shredded cabbage. This is the kind of recipe you can add whatever 'goodies' you like and it's still great. You could even make double the sauce (minus meat) and freeze it for other stirfrys. Thanks - definitely a keeper.
Heat oils in a wok or large frying pan, add lamb cook until browned.
Add garlic, ginger and chillies stir-fry 1 minute.
Add soy sauce, black bean sauce, stock, rind and sugar, stir to combine.
Add snow peas and noodles, stir-fry until snow peas are just tender and noodles are heated through.