A juice with a boost of Vitamin C. Very tasty stuff! From Jack Lalanne's PowerJuicer recipe book.
Directions
Juice together all ingredients and enjoy!
Most Helpful
A real pickk me up in the morning! I enjoyed the flavors! Thanks! Made for the Australian Recipe Swap-Dec. 2009.

Outstanding flavors! I mixed this with some orange sparkling water as an afternoon chiller after weeding the vegetable garden. Perfect pick-me-up. I love the combintion of ginger and cantaloupe.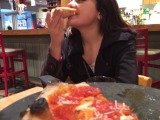 Refreshing healthy spicy. No juicer here so I added all the ingredients to my blender and enough water to make it go. I cut the orange to add no pith at all & squeezed the lemon plus all the other ingredients as called for. I'd like to try this recipe in a juicer as well.