PetsRus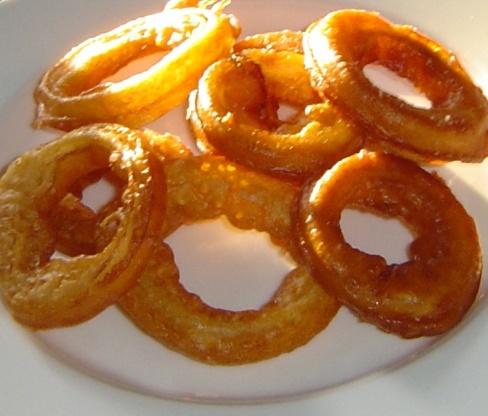 My mom used to make these when I was growing up. We rarely fry things in our house these days, but these are so yummy that we have to make them on occasion! These have just a slight spicy flavor...enough to make these onion rings unique!

Easy to make recipe the entire family enjoyed. For our tastes I'm going to increase the spices next time, but these tasted really great. I wish you could have seen the kids eyes light up when I put these rings on the table, turned a regular fried fish meal into something special.
Heat approximately one inch vegetable oil over medium high heat.
Test the oil by putting a small cube of bread into the oil.
If it turns brown after half a minute, the oil is ready.
Cut the ends off the onion and peel the outer layers.
Cut the onion into 3/4 inch slices and separate into rings.
Mix together the pancake mix and beer.
Add the paprika, chili powder and cayenne pepper to the mix.
Take 5-6 of your "rings" and coat the rings of onion in the batter then fry for approx 5 minutes until both sides are golden brown.
Turn over once during the frying process so both sides are cooked.
Remove from oil and place on paper towels to drain.
Season the onion rights with salt while they are still hot.
Repeat until the rings are all fried.