Bayhill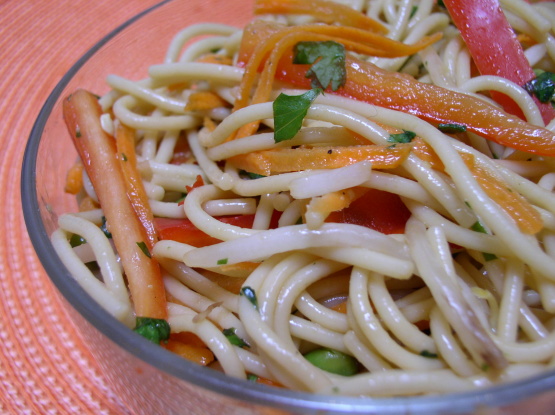 I like the recipe as a side for grilled fish or chicken.
We enjoyed the vegetable combination of this salad, however, my family thought that the dressing was too bland and too tart as written. The salad just seemed to need "something" to jazz it up, thus the reason for the 4*s. I tweaked it by adding some sliced green onion, and some extra soy sauce and sugar. Also, I added some roasted garlic flavor rice vinegar, some vegetable oil, pepper and Spike seasoning. These additions gave the salad the flavor boost that we felt was missing. After it was all said and done, we really enjoyed this salad. Thank you for sharing.
In a large pot cook noodles until tender, but firm, drain.
Rinse under cold water, drain.
Combine with carrots, peas, red pepper, bean sprouts and coriander/parsley.
Combine all dressing ingredients and toss with vermicelli/vegetable mixture.
Refrigerate.