Spicy Monterey Jack Cheese Logs
Nimz1466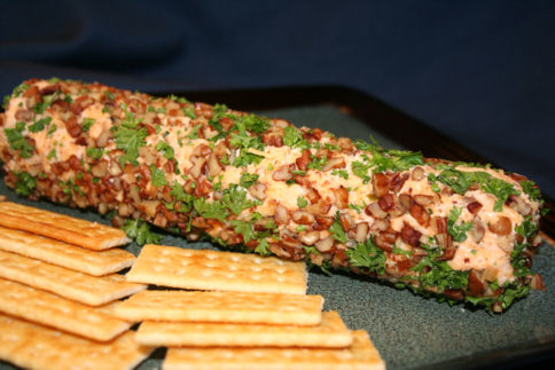 A pair of these savory spreads makes a great holiday gift. I made these last Christmas as an appetizer before our big dinner, and I watched them disappear! You can make ahead and wrap each log in heavy-duty plastic wrap and freeze. Thaw in the refrigerator overnight. From Christmas with Southern Living 2004, recipe submitted by Charles Flournoy of Dallas, TX. Prep time is cooking time.
So good! This was such a beautiful addition to our table at our Christmas party! It was delicious and everyone liked it! I would definitely recommend this to anyone! I have a nut chopper which made perfect size pecans to roll in. It's best if the nuts are pretty small. I made as is, except used almost 1/2 tsp ground red pepper and didn't toast the nuts. It really is a beautiful presentation as well as being so delicious! Thanks so much for posting this! I will definitely make again!
Combine first 3 ingredients in a large bowl, blend well. Stir in shredded cheeses. Divide cheese mixture in half, and shape each portion into an 8-inch log.
Combine pecans and chopped parsley, roll logs in nut mixture. Cover and chill 8 hours (I wrapped in wax paper). Let stand 1 hour before serving.
Serve with a variety of crackers. Garnish if desired.