Heydarl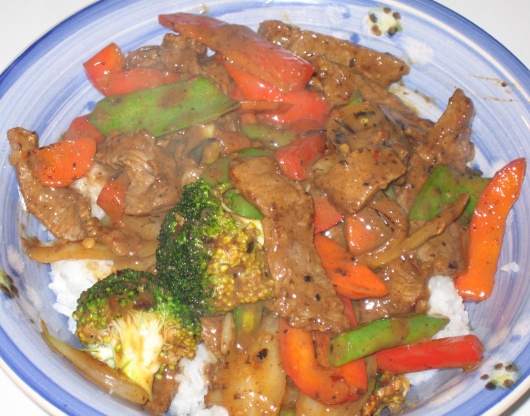 This recipe is nice and spicy. The version below has an average amount of chili in it, but if you are like us and love a bit of heat you can add another couple of spoons of Sambal Oelek. Better yet, go crazy with some Sriracha sauce or some fresh chilies. This recipe is adapted from an Australian Women's Weekly cookbook. UPDATE: Changed the cut of meat after the first review to make it more relevant to North America.
Awesome recipe! This was easy to make and it tasted great! I am definitely saving this recipe to make again! I did not use the black bean sauce and i used regular soy not dark and still it was excellent.
Combine cornstarch with vinegar and half of the sauces.
Marinate beef in bowl with five spice, sugar, garlic, egg and sauce mixture for an hour (or as long as you've got).
Heat half the oil in a wok. Stir-fry beef in batches, leaving the excess marinade in the bowl. Set cooked beef aside.
Heat remaining oil in wok and stir-fry onion until soft. Add carrot and bell pepper and cook for a further minute, leaving the vegetables crispy.
Return beef to wok with broccoli and snow peas. Add the saved marinade, the rest of the sauces and the stock. Cook, stirring often, until sauce biols and thickens slightly.
Serve with your favourite type of rice or noodles.