Rita1652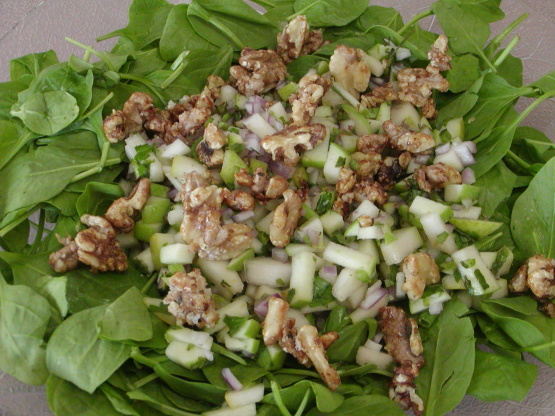 A fresh spicy minted nut salad, nice for summer. Prep time does not include 6 hours marinating time for fruit salsa.

This is a crunchy, sweet, lively salad. I used a whole jalapeno in the salsa. I would use lime next time in place of lemon. Only used 1/4 cup sugar for the nuts and it was plenty. Served it on a bed of baby spinach. This could have had a bit more dressing. I did use a Feta Vinaigrette by FlemishMinx #102099 which went well with this. Thanks Barb!
FRESH FRUIT SALSA; Toss together all ingredients---let marinade for 6 hours.
SALAD; Place nuts in dry pan over low-medium heat.
Add 3/4 cup granulated sugar.
Stir constantly for 10 minutes or until sugar is melted and nuts are coated.
Spread coated nuts on foil and let cool.
Place mixed greens on chilled salad plate---top with fruit salsa, a healthy sprinkling of goat cheese, and handful of sweetened nuts.