Bergy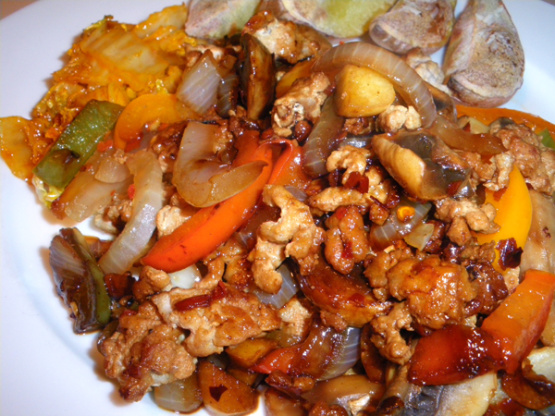 I got a bag of Organic pork mince and was trying to think of how to use it, I looked at the ingredients list and used what I had on hand. It turned out very tasty and I intend on cooking it again. I like HOT food and this is hot you can add less chil=li if you don't like too much heat.

Top Review by Bergy
Spicy tasty recipe. We loved it - I added some mushrooms but otherwise followed the recipe. This would be wonderful as a sloppy Joe on a bun. I served it with some steamed Suey Choi and oven roasted potatoes - Rice would be perfect for it too. Thanks for posting Choppy - choppy
700

g pork mince, finely ground

2

medium green peppers, halved and sliced in 1/4 inch slices

2

medium red peppers, halved and sliced in 1/4 inch slices

2

medium onions, diced

3

garlic cloves, finely chopped

3

chopped chilie bell peppers (I used the Thai chilies and liked the result)

1

tablespoon oil

3

tablespoons oyster sauce

2

tablespoons rice vinegar
Heat 2 tbsp oil in a large frying pan sauté the onions,peppers and chilies when softened add the garlic and remove from the pan and set aside.
Add the remaining 1 tbsp oil and brown the mince in small batches avoiding the "stewing" effect.
Place the browned mince on top of the reserved vegetables (keeps all the juices).
Deglaze the pan with vinegar add the vegetables and pork and stir to mix.
Add the oyster sauce and stir to heat.
Serve on boiled white rice.