-Sylvie-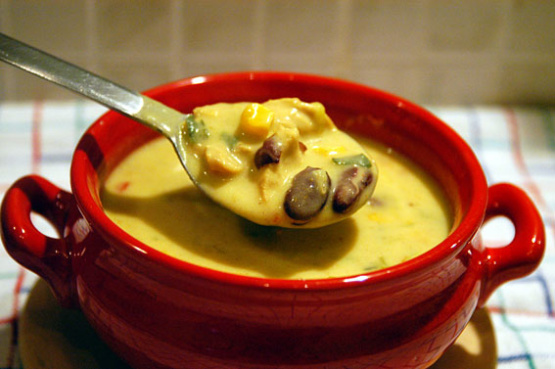 My best friend made this the other day and I just had to have the recipe. It's filling and soooo good! The recipe can easily be halved. This recipe comes from a German cookbook and a German packet of leek soup is enough for 3 cups of water. As far as I can tell from looking on the internet that's the same for Knorr leek soup in the US. If I am wrong please use enough of the soup mix to make 9 cups. If you add the optional ingredients you might want to reduce the amount of whole kernel corn, otherwise the soup becomes really thick. Where I live you can buy cans of whole kernel corn that have some kidney beans added, those work really well. Can easily be prepared ahead and reheated.
Delicious! A GREAT recipe. We like spicy food, so we left the seeds in the red peppers and also used hot curry powder. This soup is also delicious served over basmati rice. My husband couldn't wait to eat the leftovers the next night and I look forward to sharing this recipe with friends and family. Thank you Sylvie77, I have tried other recipes from you site, and will continue to try others! You're an angel for sharing. Thanks, Laura
Heat the butter in a large stock pot and fry the turkey or chicken chunks until very nearly done.
Add the curry powder and fry for a further couple of minutes, if you are using leek you can add it at this stage.
Add the water, bring to the boil, add dry soup mix and stir until disolved (check that your soup mix says to mix into boiling water, some of them need to be mixed into cold or warm water).
Add all other ingredients, apart from the cream and the spices, and simmer for 5-10 minutes until everything is heated through.
Add the cream and season to taste (quite spicy) with chili powder and cayenne.
Serve with crusty bread.