Spicy Middle Eastern Stir Fry.........(Kilayah)
UmmBinat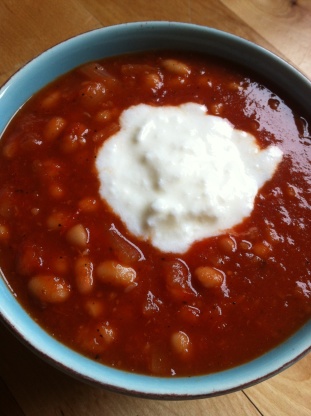 This is a recipe for a basic middle eastern stir fry, which uses alot of tomatoes as its base. This usually is served with a side of rice or middle eastern bread for dipping. I usually make this dish as a dinner, but sometimes even as a one of my breakfast dishes. This dish is common throught the middle east, but referred to differently such as Alayeh, Ghalabah e.t.c. and recipe varies. You can add diced tender beef or lamb, carots, green peppers e.t.c. This is how we like it in our house.

Simple with lots of possibilities. I made ours vegitarian while waiting on an organic meat shipment. I used organic canned pinto beans including their liquid, organic canned tomatoes that were almost a puree, organic onion, cayenne pepper powder in place of the hot pepper, to taste, organic garlic, no Maggi cube because of the ingredients, less home-made organic ghee instead of GMO oil and no cinnamon. We ate it with some organic kifer on top. Made for Welcome To Palestine!
Place oil in a nonstick frying pan under high heat. Once the oil is very hot add the onions in.Stir the onions and let cook for about 2 minutes.
Then add the rest of the ingredients. Stir. Cover and let cook for about 5 minutes. Stir again, make sure you stir frequently to avoid sticking. Stir fry with be thick. If you feel it is too thick, add just a tiny bit of water. I usually dont have to, and by adding the water, it dilutes the flavor a bit.Place on medium heat.Let cook until the tomatoes have cooked down. Remove from heat. Enjoy!