Spicy Mexican Lamb Kebabs
Peter J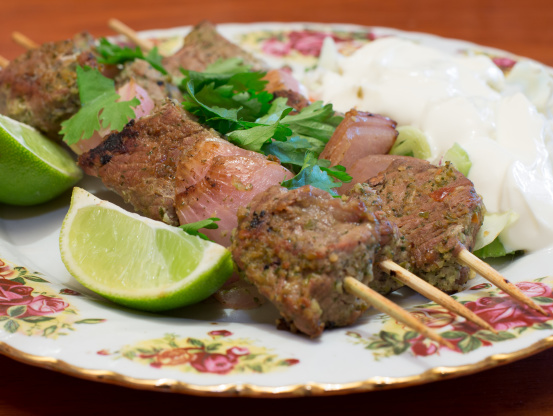 Many Mexican recipes start with a paste made with various rehydrated dried chiles, onion and fruit juices. Here a paste is used as a spicy marinade to flavor tender chunks of lamb. The hearty taste of red meat and the spicy heat of chiles creat the perfect marriage. For a smoky heat, try chipotle chiles. For over-the-top heat, use scotch bonnet chiles. For a nice bit of spice without a lot of burn, experiement with jalapeno or serrano chiles. Serve the lamb rolled in warm tortillas accompanied by the traditional beans and rice. Try the paste on chicken, beef or pork, too. Time does not include marinating time.

Delicious! While preparing I thought the amount of cilantro / lime juice may have been a bit much but that wasn't the case at all and it had a wonderful citrus tang that went well with the heat from the chiles. I served along with a a few salad vegies and some Greek yoghurt.
Soak ancho chile in small bowl of boiling water to cover 30 minutes or until chile is soft. Strain, reserving soaking liquid. Place chile and all remaining marinade ingredients in blender; blend to form smooth paste, adding reserved soaking liquid as needed.
Pour marinade over lamb and red onion in resealable plastic bag. Refrigerate 2 hours, turning occasionally.
Heat grill. Remove lamb and onion from marinade, leaving on plenty of the spice paste; discard marinade. Alternately thread lamb and onion onto 4 (12-inch) metal skewers. Grill, covered, over medium-high heat or coals 8 to 10 minutes or until browned on all sides and lamb is pink in center. Garnish with cilantro sprigs and lime wedges.