Spicy Mexican Couscous Salad
Bayhill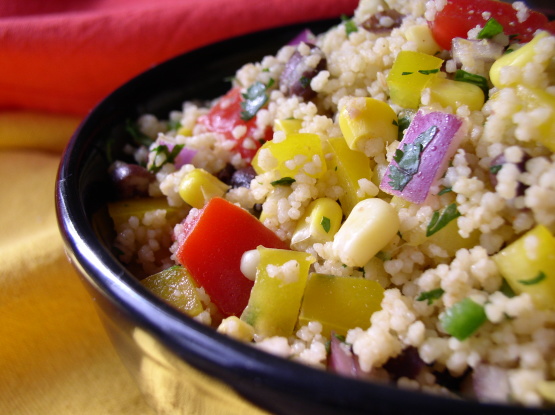 A spicy leeeeetle salad to serve with a great Mexican meal. Posted for ZWT3. Adapted from a food blog.
Delicious! We loved this colorful, fresh tasting salad. The fresh vegetables really complimented the couscous very well. I cooked the couscous in chicken broth instead of water for added flavor. Also, I added the cumin to the dressing ingredients for better distribution througout the salad. I added some extra garlic, a pinch of sugar, and salt & pepper to taste to the dressing. I'm looking forward to making this salad during the summer when I can use fresh peppers, tomatoes, chiles and corn from the garden. Thank you for sharing this wonderful recipe...it is definitely a keeper! *Made for 8th Annual Photo Swap*
Cook the couscous per package directions.
Add the cumin, black beans, and chopped vegetables and herbs.
Whisk together the dressing ingredients and pour over couscous.
Toss lightly until well distributed.