Timothy H.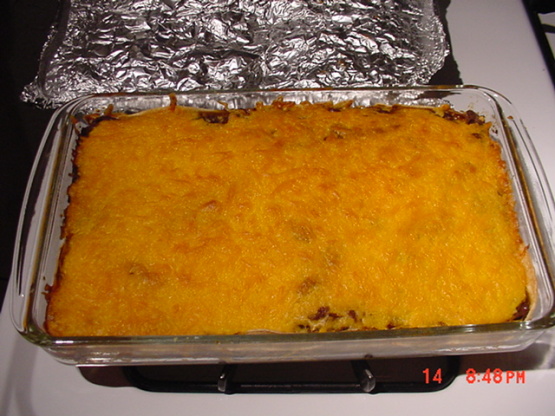 This is something I am throwing together for dinner tonight with things I happen to have on hand. I like to make "bakes" when the weather is cold and it's a bit chilly here in MI today.
Made this for basement tag! This has a nice taste but the problem is there is no moisture at the end result.This is because the corn tortillas absorb all the liquid even thou I used 1 quart homemade salsa instead of a half cup of water as in the recipe, I also added 1/2 cup of water and it still was not enough.I did know that when I started this recipe just by looking at the ingredients and saw there was no liquid other than the half cup of water! After baking I added sour cream on the side and served and that did help! I think this would be a very good recipe with the addition of moisture or less corn tortillas, maybe 3 on the bottom and 3 in the second layer!
Preheat oven to 400 degrees farenheit.
Cut the roast in small strips (fajita style), and brown it in a hot pan.
While the meat is browning shred the cheese, slice the tomatoes, chop the green pepper, and dice the onion.
After meat is browned, drain off any fat and add taco seasoning along with a half cup of water. Bring up to a simmer.
Once everything is prepared, lightly grease a 13x9 baking dish and layer ingredients starting with tortillas, then a layer of meat, followed by the tomatoes, green peppers, and onions. Repeat layering, reserving the cheese for the top.
Cover pan with aluminum foil and bake for 45 minutes Remove foil and continue to bake uncovered for additional 15 mins, until cheese just begins to brown.
You could also add a can of bean (black beans or pinto) as an additional layer if you wish. I would have included in the recipe but I don't happen to have any on hand.