Spicy Mexican Bean Burger
flower7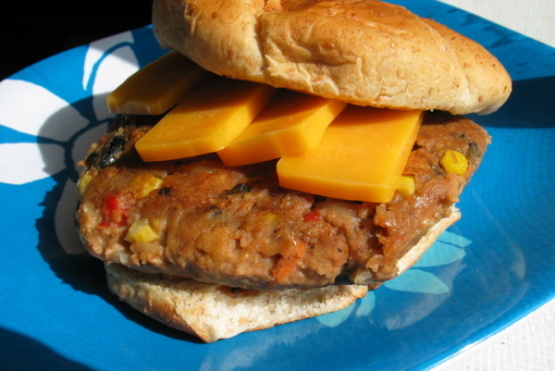 This is an inexpensive vegetarian burger and my husband loves them. He ate one and he said they are filling, delicious and he said he wants more made when these are gone and he even said that they are better than store bought. They don't fall apart like most veggie burgers and all the ingredients are available at any grocery store.

Yum! Whenever I can make a vegetarian dish that my husband would like me to make again, that's five stars! I omitted the corn because he doesn't like it and I used quick oats instead of flour. I also went heavy on the seasonings because we like things spicy. To cook, I fried them in a thin layer of olive oil, turning several times and finally topping with cheese. My husband said it reminded him of a torta.
1

(16 ounce) can fat-free refried beans (these are always vegan)

1

teaspoon oil
1⁄2 cup small onion, coarsely chopped
1⁄2 green pepper, coarsely chopped
1⁄4-1⁄2 cup frozen corn

1

carrot, peeled and shredded
1⁄8 cup picante sauce (spicy or mild to your taste) or 1⁄8 cup salsa (spicy or mild to your taste)

1

cup breadcrumbs
1⁄2 cup flour

1

teaspoon black pepper, to taste

1

dash chili powder

1

dash cumin
1⁄2 cup sliced black olives (optional)
hot sauce, a few drops per burger (optional)
Heat oil in skillet over medium heat.
Add onions, carrots, corn and chopped green pepper.
In the meantime, place beans in a large bowl.
Sauté until vegetables are bright in color.
Add vegetables to beans, blend with hand mixer.
Add remaining ingredients, adding more flour to create a firmer mixture, or more salsa if mixture is too stiff.
Form into balls and smash into patties.
Place on pieces of waxed paper and stack in Tupperware.
Place about 5 sliced olives in middle of patty, smash to seal them inside.
To heat, spray each burger with cooking spray.
Heat over medium heat and cook until browned on one side.
Flip and drop a few drops of hot sauce on burger if desired.
I serve these with salsa, chopped onions and a cheese slice on a toasted burger bun (toast the face in the same skillet used for the burger).