teresas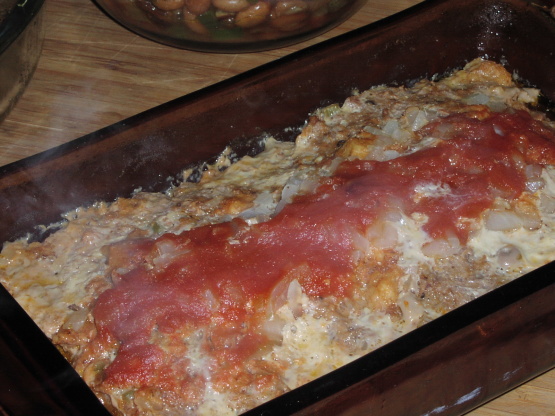 Hot tomato sauce located in the Mexican food aisle.

We loved the flavor of this meatloaf. My only problem was that it was really on the soft side. I would suggest using 1 1/2 pounds of ground beef. This was nice and spicy. I love the El Pato hot Mexican tomato sauce. You can't use regular tomato sauce in this recipe and get the full spicy flavor. This is very easy to put together. Thanks for posting. Made for Spring PAC 2009. :)
Preheat oven 375°F.
Heat hot tomato sauce in saucepan over medium heat until slightly thickened; let cool.
In a bowl, add 3/4 of the diced onion and 3/4 of the cooled tomato sauce.
Add remaining ingredients to the bowl; mix well.
Load meat into loaf pan.
Pepper the top of loaf, add remaining onion; pour remaining tomato sauce on top.
Cover with foil and bake 1 hour.