Spicy Meat and Cheese Stromboli
BabyKEsq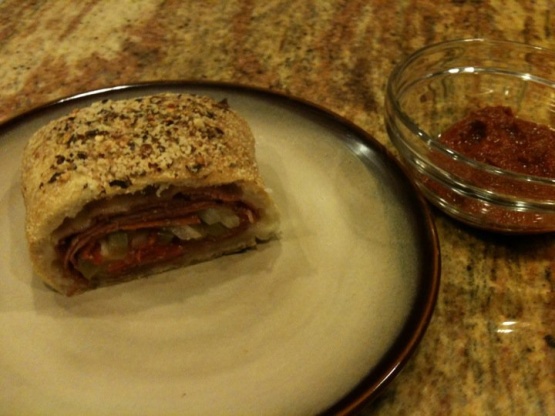 This is from 30 Minute Meals on Food Network. A simple, quick snack for the Sunday football game or movie night.

This recipe has become my 'go to' stromboli recipe. It's so easy and yummy! I add a little bit of sauce to mine but otherwise I make it just as the recipe directs and we just love it. I've tried using bread dough and it does ok in a pinch but the pizza dough is much easier. I've also tried making one large stromboli and prefer the 'individual' ones since the dough in the middle never seems to be cooked in the large one. Thanks for a wonderful recipe!
Pre-heat oven to 400 degrees.
Break open the tube of dough and remove it from container. Dust your hands and lightly coat the dough with cornmeal then roll out onto work surface. Stretch out dough, then cut the thin rectangular dough into 4 equal square pieces.
Cover each piece of dough with: 6 slices pepperoni, 1 1/2 slices cheese, 1 1/2 slices hot ham and 2 slices Genoa salami.
Roll each piece on an angle from corner to corner making a long roll that is thicker in the middle and thinner on each end.
Brush rolls with extra-virgin olive oil then mix sesame seeds, cheese and seasonings in a small cup, sprinkle and pat the mixture into the dough.
Bake until evenly golden, 12 to 15 minutes then serve.
If desired, serve with marinara Sauce.