Spicy Marinated Black Olives
awalde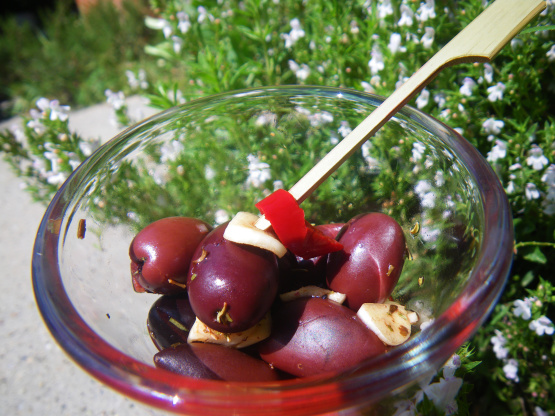 ZWT7, Italy. Marinated to piquant perfection, these olives are far from ordinary. To fully develop the flavor of garlic in the recipe, it is best to allow the olives to marinate for at least several days before serving. Olives spiced with chillies make a delicious mezze dish in Syria, Lebanon, Jordan & Turkey. They are often served with cubes of firm salted white cheese that is either drizzled with olive oil or fried such as, Saganaki (fried Cheese) Greek Style. Haloom cheese is particularly good for this. From http://www.spain-recipes.com.

I agree with Crafty Lady that these babies have some real pucker power--I was amazed at how much the vinegar flavor takes over the briny flavor of the olive. I really enjoyed these, as did my friends for whom I made them. I think they would be absolutely lovely with haloumi or another firm cheese! Next time I might try making them with balsamic vinegar instead of red wine vinegar, just out of personal preference. Thanks for posting! Made for ZWT 7, for the Vivacious Violets.
Lightly crush the olives, without breaking them, and pour into a glass jar with a lid, discarding any oil produced. Add the dried chilies, garlic, and dried thyme if using lightly shaking the jar to ensure equal distribution. Pour in enough red wine vinegar so that the jar's contents are entirely submerged.
Add a dash of lemon juice, seal the jar, and store at room temperature for several days, shaking the jar occasionally.