Spicy, Low-Fat Veggie Burgers (Vegan, Gluten-Free, Soy-Free
Prose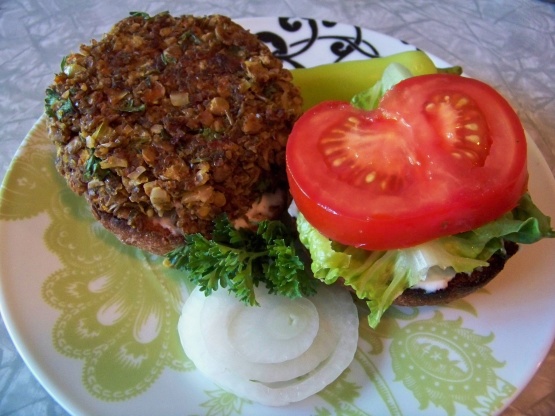 These flavorful patties are baked instead of fried! I modified this recipe from The Great American Detox Diet by Alex Jamieson. These burgers freeze well if individually wrapped. Reheat them in the microwave or oven or on the grill.

These are awesome! And the recipe was flexible enough to succeed even though I fiddled a little based on what was in the cupboard... I used black beans, cashews, and skipped the jalapeno and ground red pepper. In hindsight, I should have upped the chili powder a little to compensate, but I am a bit of a spice wimp... Rather than getting my grater out, I plugged in the food processor and just threw everything in all at once. Worked perfectly! I made them on my indoor grill and they held together very nicely. Once this batch disappears, I'm going to make another to keephandy in the freezer!
Preheat oven to 350 degrees F.
Squeeze grated onion and bell pepper in a paper towel to remove excess moisture.
Mash most of the lentils.
Combine all of the ingredients. Your hands are the best tool.
For best flavor, allow the ingredients to marry by letting the mixture sit, covered, at room temperature for an hour.
Use a 1/3- or 1/2-cup measuring cup to scoop the mixture. Pack tightly into cup then invert onto greased baking sheet for a total of 6 scoops, leaving lots of room in between. Smash each scoop into a patty shape using your hands or other flat surface.
Bake for 25 to 30 minutes, flipping halfway through. Be VERY CAREFUL when you flip them, as they are still rather delicate.
Serve with whole-grain buns and all the condiments.