Spicy Lime Prawns Served With Tomato Avocado Salsa
Nimz1466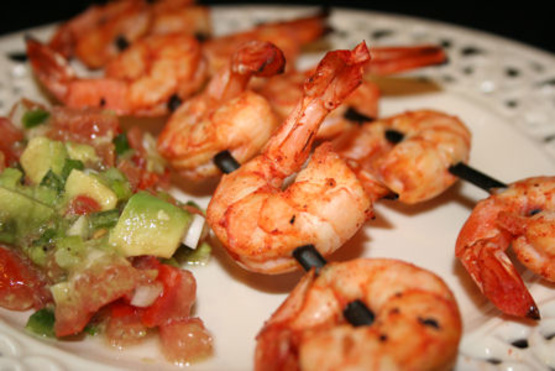 The spicy tangy prawns are lovely served by themselves with some grilled lime wedges but I love the flavours of the salsa along with it.. so either way, it's delicious! Cooking time indicated includes marinating time.

Yum Yum Yum! But wait - it gets better!....I've made this recipe twice now this past week with slight modifcations. For the sauce - I doubled the lime juice and added 1/2 tsp of red pepper flakes. For the Salsa, I left out the olive oil completely and added a splash of hot sauce. Now for the fun part - the 2nd time, I made this with fresh BC salmon instead of prawns and it was beautiful (not to mention delish) with the salsa served on top. Thanks for sharing this. I imagine it' would be amazing with halibut as well. I just made this for family but will definitely be impressing guests with it was well. Thank you for sharing this!
For salsa, combine tomatoes, avocado, spring onion, chilli, coriander, garlic, lime juice and oil in a bowl and season with salt and pepper (you may make this upto 3 hours in advance. Cover tightly with cling film and refrigerate).
You will need 4 wooden skewers soaked in water for atleast 20 minutes to stop them from burning.
In a bowl, combine the minced garlic, paprika, chilli powder, lime juice and salt.
Add in the prawns and toss to coat evenly.
Thread 5 prawns onto each skewer, cover with clingfilm and refrigerate for 30 minutes (you may marinate the prawns upto 2 hours in advance).
Pre-heat indoor grill to medium-hot, or for outdoor grills, medium-hot coals.
Grill the prawns until they are pink and the flesh is opaque, about 3 minutes on each side.
Serve hot with salsa and/or grilled lime wedges.