RonaNZ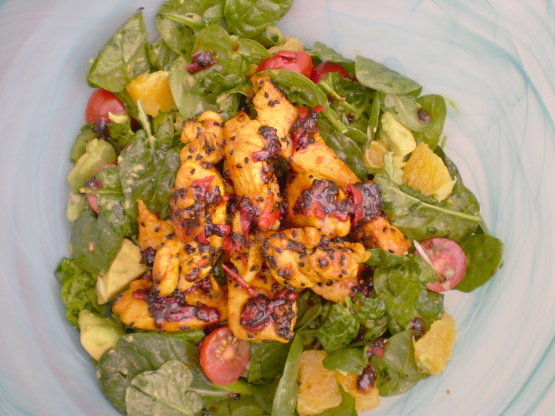 This colourful salad not only presents beautifully, but has an intense combination of flavours, which will leave your tastebuds wanting more ! The lime juice, cayenne chillies and blood orange give this dish a combination of sour, hot and sweet tastes that complement each other perfectly. Everyone who has tried this is screaming for me to make it for them again.

Top Review by RonaNZ
I wish we could get blood oranges here because it would have looked so pretty. It looked good with ordinary oranges. The nigella seeds gave this dish an exotic look to go with the exotic aroma of the spices. This is my favourite type of meal, intense taste from the meat on top of fresh salad ingredients. Divine! The only thing I changed was the amount of sugar. My chicken was well caramelised after 2 teaspoons so I didn't add the third teaspoon to the reduction. All the best in the contest. Made for RSC#11
To marinate the chicken, place tenderloins in a large ziplock bag, with juice of 3 1/2 key limes, nigella seeds, turmeric, curry powder, chillies and cayenne pepper. Mix well to evenly coat chicken with marinade.
Seal bag and place in fridge for at least 4 hours (or overnight).
Add curry powder to large non-stick frypan on high heat.
After 1 minute, add olive oil (for cooking) and mix with curry powder.
When oil is hot, sprinkle 1tsp of the brown sugar and dissolve.
Add marinated chicken, reserve excess marinade.
Cook for 4-5 minutes on high heat. Move chicken around in pan to ensure sugar does not burn.
Sprinkle 1tsp of the brown sugar on top of the chicken, then turn immediately.
Cook on high heat for 1 minute, then add reserved marinade, cover and simmer on low heat for 8 minutes (until tender and cooked through).
Take chicken out of frypan (set aside).
Make reduction using pan juices by adding 1 tsp of the brown sugar and juice of 1 key lime to the frypan. Raise heat to medium and reduce until slightly thicker. Set aside.
To make the salad, mix spinach and shallots in large bowl. Whisk oil and vinegar and juice of 1/2 key lime to make dressing. Toss the dressing through the salad well.
Gently toss through the tomatoes and blood orange segments.
For serving, place salad on platter or in individual bowls.
Place warm chicken pieces on top of salad. Drizzle with reduction from the frypan.