Annacia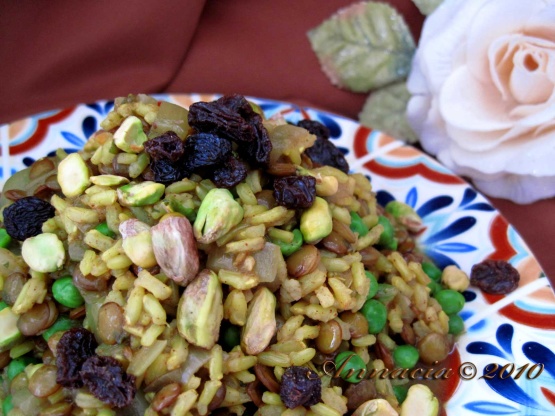 I like my pilaf spicy....very spicy!

This is another winning recipe. It's a great tasting and healthy dish that I enjoyed very much. I did find that I needed to add another 1/4 cup of water and 15 more mins. The rice and lentils were still on the crunchy side in the given time after standing. I used anise seed in place of the fennel and dark raisins as that's what I have. It all came together with a marvelous aroma and wonderful taste. Thanks Barb, you have been a great PAC baby and I'm sorry to see you leave home but I think that you'll do very well in the world, very well indeed:D
pour oil into a heavy, wide pan with a tight-fitting lid. Add onion, garlic and salt. Sweat until aromatic, stirring constantly.
Add rice and stir to coat. Continue stirring until rice smells nutty.
Add water,bouillon cubes, orange zest, spices and bay leaf. Bring to a boil, reduce heat, cover and simmer for 20-25 minutes. Remove from heat and let stand 5 to 10 minutes.
Thaw the peas in a microwave. Stir in peas, and fluff with a fork. Sprinkle with raisins and pistachios.