Spicy Lentil and Kale Soup
Prep 10 mins
Cook 20 mins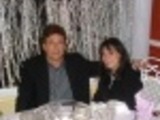 My version of this tasty, satisfying soup adapted from a Rachael Ray recipe.
Directions
In a large, heavy soup pot, heat the oil over medium-high heat. Stir in the anchovies until melted, then add the pancetta and cook until crisp. Add the potato, carrots, onion, and garlic. Add the rosemary, bay leaf, paprika, red pepper, allspice, salt and pepper; cook until vegetables are softened, about 8 minutes.
Stir in the lentils, chicken broth and tomatoes and bring to a boil. Lower the heat, stir in the kale, and simmer until the lentils are tender, about 30 minutes. Discard the bay leaf and rosemary sprigs.
Most Helpful
Didn't have the anchovies and used regular paprika instead of smoked...still turned out excellent. High marks from DH and I"ll be making this again!
Very good and different lentil soup. I skipped the anchovies and rosemary and next time I may decrease or skip the red pepper flakes (even though they added the extra kick to this delicious soup). Thanks for sharing!