Spicy Lemon Shrimp With Basil Mayonnaise
IngridH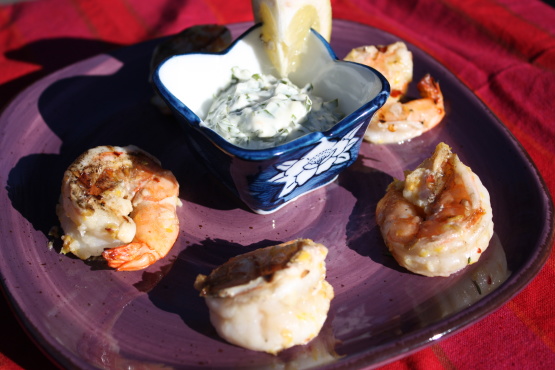 A recipe from Betty Crocker : This lovely restaurant-style appetizer can be made ahead of time. The shrimp can marinate in the lemon mixture up to 3 hours in the refrigerator before broiling. Make the basil mayonnaise up to a day ahead, and store covered in the refrigerator.

These were wonderful! I cut the recipe by 4, and served as a main dish for 1. Based on the previous review, I only let this marinate for 1/2 hour, and it was plenty. My shrimp had a wonderful lemony flavor, and a nice bite from the pepper flakes. Instead of broiling, I cooked these on the grill, which added a nice smokey touch. I loved the basil mayo, it was the perfect complement to the shrimp.
Set oven control to broil. In medium glass or plastic bowl, stir lemon peel, lemon juice, red pepper, salt, garlic and 1 tablespoon of the oil until well mixed. Add shrimp; toss to coat.
Spread shrimp in ungreased 15 x 10 x 1-inch pan. Broil with tops 2 to 3 inches from heat 3 to 5 minutes or until shrimp are pink and firm.
In food processor, place basil and remaining 2 tablespoon oil. Cover and process until basil is chopped. Add mayonnaise; cover and process until smooth. Serve shrimp with mayonnaise.