Spicy Lamb With Garlic Couscous
Luschka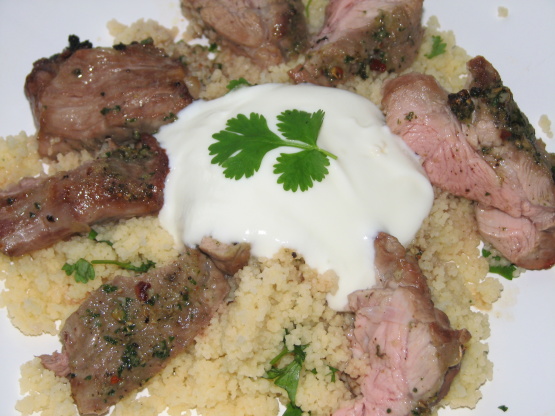 A spicy Moroccan style dish. As the couscous has minimal cooking time the garlic flavour is quite strong, reduce the amount of garlic in the couscous or use some roasted garlic paste if you aren't keen on very garlicky food. This recipe came from the Home Beautiful magazine. The marinade also works well with chicken fillets.

This was an absolute hit at our house, and is now in my keeper file. I used a leg of lamb steak cut into chunks. Being in Texas the ingredient "fresh or bottled" chili wasn't terribly descriptive or useful - that covers a lot of potential options here, from mildest to killer hottest. I ended up using cayenne pepper "to taste" As a garlic lover I plan to revisit the couscous part of the recipe at some point in the future. This time, because of the spiciness of the lamb, I went with a "safer" approach, and made the Herbed Israeli Couscous #332670 without the tarragon and rosemary.
FOR THE LAMB.
Trim off any fat.
In a small bowl combine the chili, cumin, garlic and coriander.
Rub the mix into the lamb, you can allow it to marinate for up to 4 hours but it isn't essential.
Cook the lamb on a preheated, oiled grill plate until browned and cooked to your liking.
Remove from grill, sprinkle with a little sea salt and cover to keep warm.
FOR THE COUSCOUS.
Combine the stock, garlic and peas in a medium saucepan and bring to the boil.
Remove from the heat and stir in the couscous and oil.
Cover and stand for about 5 minutes or until the liquid is absorbed.
Fluff with a fork.
TO SERVE.
Slice the lamb, place on top of a mound of couscous and add a dollop of yoghurt.