Spicy Lamb Kabobs With Turkish Cacik
Prep 25 mins
Cook 15 mins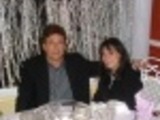 Posting for ZWT 6. If you are looking for a kabob with a kick, this is it! Lamb is marinaded in a spicy blend of herbs, creating a flavorful lamb kabob. Cacik has a million different uses. Use as a dip for kebabs, pita dip, or eat it alone, it has the most fabulous flavor.
Directions
Make Cacik: In a mixing bowl, combine cucumbers and garlic. Add salt to taste. Mix in yogurt with wooden spoon. Transfer to serving bowl. Garnish with mint and drizzle olive oil on top. Serve immediately or cover and refrigerate.
Prepare skewers by spraying a light coat of cooking oil to prevent sticking. Place lamb and vegetables on skewers. Grill spicy lamb kebabs for about 5-7 minutes on each side or until desired doneness. Serve with hummus, baba ghannouj, or turkish cacik, a cucumber yogurt sauce for dipping.
Reviews
Most Helpful
I thought this was GREAT!
Seasoning and yogurt sauce is VERY healthy, first rate!
SO simple, easy to make, TRUE!
Cooked lamb on wooden skewers two minutes each side...gets two thumbs lambs up too lol

I loved this but I didn't use lamb as I did not have any, so I used beef. I also used hickory chips in my grill. The flavor was phenomenal. Threw in a teaspoon of garam masala in the marinade and extra cayenne. Yum. I will make this again and next time with lamb. Thanks because this is now my favorite marinade. I like to switch around a bit and get excited when I find something new.

This marinade was delicious. I'm not sure the cacik sauce is quite right - it seemed to need more spices. We used this marinade on lamb and chicken and then put them in a rotisserie. Delicious!