Spicy Indian-Style Skillet Chicken Biriyani
Redsie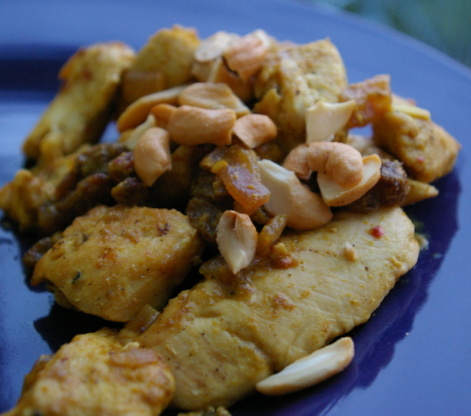 If you are a lover of Indian food, then you will love this dish! This is a skillet version of the Indian biriyani, no need to bake in the oven it is all made in a skillet with the same authentic flavors, do not use low-fat yogurt for this or it will curdle, use whole milk yogurt. If you have any saffron add in a pinch to the rice when it is cooking, along with a very small pinch cinnamon and 2 teaspoons salt, use 3 cups water or chicken broth with 1-1/2 cups basmati rice. You can adjust the jalapeno peppers and chili flakes amount to taste and also use as much curry as desired.

So good! I have never had biriyani before so I don't really have anything to compare it to, but this was delicious. I did not have fresh ginger or jalapenos, so I used powdered ginger, some cinnamon (I loved the sweet edge it gave it!) and added a second packet of crushed pepper flakes left over from getting pizza. I also did what one of the other reviewers did and add craisins instead. I will definitely be making this again - great comfort food and even better the second day for lunch. Mmmm. :)
Sprinkle the chicken with about 1 teaspoon salt and 1/2 teaspoon black pepper (can use more pepper).
Heat oil with butter over medium heat; add in the chicken and cook for about 6-7 minutes or until cooked through, remove to a bowl, cover with foil to keep warm.
Add in onions and cook for about 10 minutes or until lightly browned (you might have to add in more oil if needed).
Add in garlic, chili flakes, curry powder, ginger, cardamom and jalapeno peppers; cook stirring for 3 minutes.
Add in yogurt, cook stirring constantly for 2 minutes.
Add in chicken and raisins; cook for about 3-4 minutes or until heated through.
Add in cooked rice; stir to combine.
Season with more salt and black pepper to taste.
Sprinkle with chopped cashews.