2 hats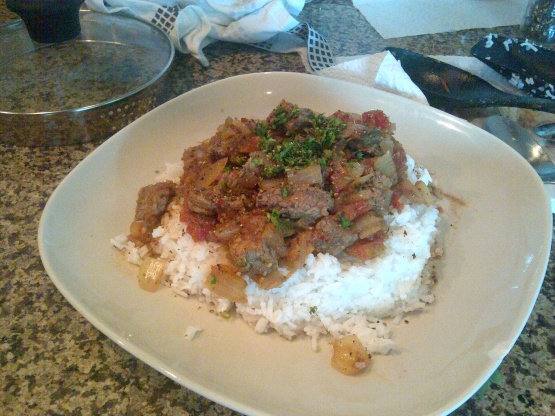 Here is another one of my favourite curry dishes. This dish will make your taste buds stand to attention with the mixture of fragrant herbs and spices. You'll come to realise how easy it is to make such a flavourful curry dish. Enjoy

As an Indian I must say this is been one of the easiest recipe I've ever cooked. I love to cook and spends also a lot of hours in the kitchen,as Indian food depends on what you cook and how you cook. This Beef curry has been the fastest prepared beef curry I ever cooked and I must tell you the truth:The yummy taste of this curry I can never give up,I loved it really to cook as well as to enjoy it with some rice. Will keep it as one of my favourite curry. Thank you very much Chef Punchin and may god bless you. May your life get so colour full like all the Indian spices.
1.Cut the beef into bite-sized cubes, put into a bowl and season with salt and pepper. Sprinkle with the garam masala, add the yoghurt and a good dash of olive oil, season and toss to coat. Cover with cling film and marinate for as long as possible while you prepare the rest of the curry.
2. For the spice mix, toast the cumin, coriander, fennel and fenugreek seeds in a dry pan, tossing over high heat for a few minutes until fragrant. Tip into a mortar, add a pinch of salt and grind to a fine powder. Stir in the curry powder and mix well.
3.Heat a thin film of olive oil in a large cast-iron casserole or a heavy-based pan. Add the onions, garlic, chilli, ginger and a little seasoning. Add the sugar to help caramelise the onions, followed by the coriander stalks cardamom pods and ground spice mix, stir, then cover and cook for 6-8 minutes until the onions are soft, lifting the lid to give the mixture a stir a few times.
4.Sear the beef in a hot pan and add to the onions along with the chopped tomatoes and tomato puree, stir over a medium-high heat for a few minutes and then add the beef stock and curry leaves. Cover the pan with a lid and simmer very gently, stirring occasionally, for approximately 30 mins or until the beef is tender.
5.To serve, ladle the curry into warm bowls and scatter over the coriander leaves. Accompany with a steaming bowl of basmati rice.