Rita1652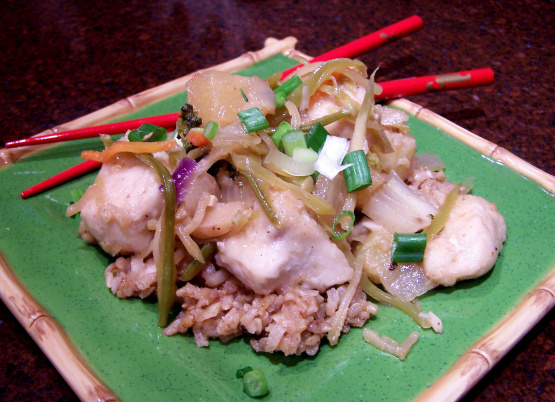 This is a sweet and spicy chicken stir-fry dish with yummy crisp tender veggies. This is easy to throw together and even easier to devour with some hot rice. We liked it with fried rice, but it'd be just as good with plain white or brown rice as well. Enjoy!

This sure takes a long time for a stir fry but the final product is worth it. Usually I've used sherry for marinating the meat or splashed in at the end, so found the technique of slow-heating the veggies in it interesting, and added lots of flavor. The chicken comes out tender and delicious but tastes strongly of the five spice powder. I couldn't taste the honey. I would love to try making this again without the five spice. If someone doesn't care for it, they would not like this dish since it's the dominant flavor. I couldn't get it to thicken at the end so added cornstarch paste. A delicious dinner and great introduction to using prepared broccoli slaw in stir fries, which I'll start doing frequently.
Put the flour, salt and pepper in a zip lock bag and seal and shake it up.
Add the chicken chunks to the bag and seal and shake to coat them.
Heat 2 tablespoons oil in a skillet or wok over medium heat, and add coated chicken chunks to it.
Saute the chicken for about 10 minutes, stirring constantly till browned and cooked through. (add more oil if needed).
Take chicken out of skillet and cover to keep warm.
Heat 2 more tablespoons oil to skillet over medium heat, and add the onion, garlic, and ginger.
Saute for 3-5 minutes.
Add the broccoli slaw, and water chestnuts to skillet.
Saute for 5 minutes more.
Add the drained pineapple chunks (making sure to save the juice)and add the sherry.
Cook on low about 10 minutes, stirring occasionally.
While this is cooking, in a small bowl whisk together 1/2 cup of the saved pineapple juice, the Chinese five spice powder, soy sauce, honey, and chili flakes.
After the skillet mixture has cooked for the last 10 minutes, stir in the contents of the bowl.
Add the chicken back to the skillet now.
Cook on med./low for 8-10 minutes until the sauce has thickened slightly and the chicken is warmed through.
Sprinkle some green onions on top of each serving and enjoy!