Spicy Hoisin-Glazed Drumsticks
Diana 2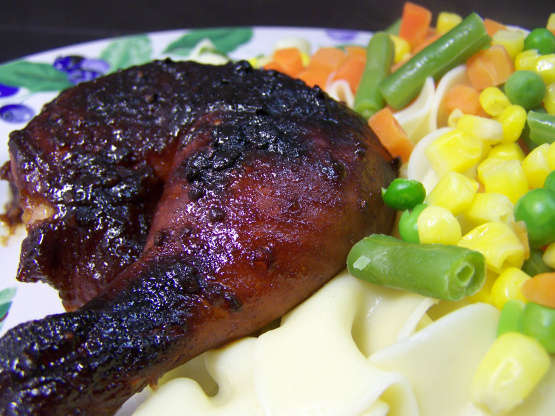 These baked drumsticks are finger-licking, lip-smacking GOOD! Make up the hoisin glaze and gift to your friends in small, attractive jars. Add the instructions on how to bake the chicken, and you'll have some very happy people on your hands! Serve with basmati or jasmine rice drizzled with the pan juices from the chicken and finely-sliced green onion tops.

We really enjoyed this recipe - great flavour and so easy to make. I can imagine how good this would be using wings. I have only one concern, and it is a major one. I baked our drumsticks at 350F. I think that 425F would have totally charred them. Thanks for creating and posting such a successful and tasty recipe. I know I will make this again.
Whisk together all ingredients except chicken, (At this point, mixture can be placed in a pretty jar to be gifted to someone special - keep refrigerated at all times. Can be kept in the refrigerator for up to a week.).
To make: In a heavy-duty ziploc bag large enough to hold chicken, add chicken and prepared sauce. Coat chicken all over with sauce and put in refrigerator to marinate for at least 1 hour. Remove from refrigerator and let sit at room temperature for 30 minutes before proceeding with recipe.
Preheat oven to 425F (220C).
Arrange drumsticks in a pyrex baking pan that has been sprayed or brushed with cooking oil. Press all the marinade out of the ziploc bag over the chicken. Roast in middle rack of oven for 25 minutes, turn chicken over and roast a further 20 minutes, until drumsticks are cooked through. Remove drumsticks from baking pan and add a couple of tablespoonfuls of water or stock to thin the pan juices, scraping up browned bits. Serve over chicken (and rice, if serving).
Note: These drumsticks are great as a bar-type snack, too. Just keep them 'dry' (don't add water or stock at the end to the pan to stir up a little sauce). The glaze is also excellent on wings, lending itself even better to the bar-food tradition.