Spicy Hearty Mexican Ground Turkey Soup
Deantini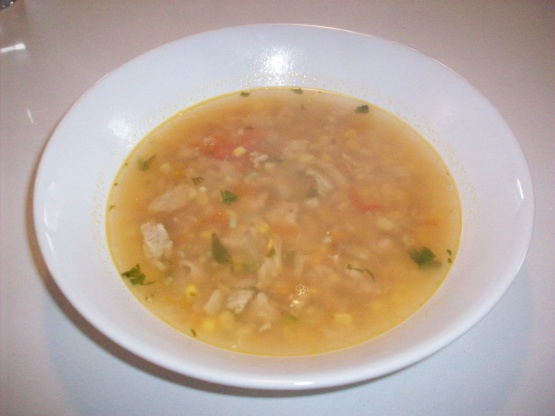 I came up with this one cold and rainy afternoon because I wanted something healthy, spicy, tasty and warm. I was pleasantly surprised with the results and thought I better write this down before I forget, because I want to make it again!

This soup is staple at our home. I add fire roasted tomatoes instead of stewed tomatoes to get a smoky taste.
Heat oil in a 4 quart soup pot on medium high.
Sautee onions and garlic until soft and transparent.
Push it to the side and add ground turkey.
Cook until nicely browned and mix with onion mixture.
Add serrano peppers, cilantro, stewed tomatoes and corn, cook for 5 minutes, stirring frequently.
Add mushrooms, chipotle chile powder, lime juice and chicken broth.
Bring to boil, lower heat and simmer for 5 minutes.