Spicy Healthy Taco Bean Soup
Parsley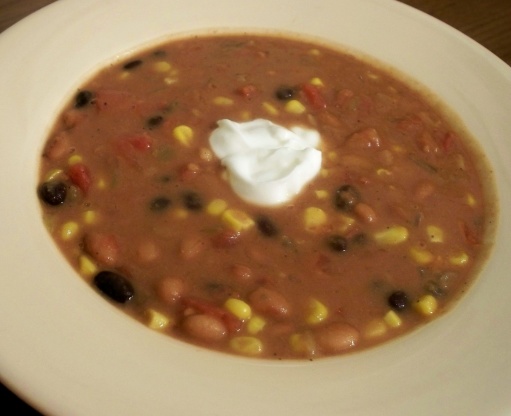 This is a great, healthy recipe that I originally got from a weight watchers meeting, but that I didn't actually try myself until a coworker made it for a faculty lunch. It's amazing how the refried beans thicken the soup and give it more body than the broth alone. It's super tasty, but quite spicy. I cut the spice by topping individual servings with fat free sour cream and shredded cheese. You could also replace the spicy diced tomatoes with an additional can of regular tomatoes if you don't like so much heat. Another way to reduce the heat would be to add an additional can of chicken broth and more beans, either more black beans or a can of kidney beans. Don't like it meatless? Stir in some browned ground beef or turkey, or add some cubed or shredded cooked chicken. Note: After reorganizing my pantry, I realized I have two similar types of tomatoes, and that I have used Mexican style diced tomatoes the last couple of times I made this, which likely made this more spicy than the rotel style tomatoes would have.

This is one of my favourite recipes since I discovered it here more than a year ago. It's so simple and quick to make; I always have a few servings stored in the freezer for lunches. Sometimes I can't find Great Northern Beans but Black Beans or even Kidney Beans work well too. I always add a whole 900 ml container of Chicken Broth and the consistancy still comes out great. We don't have Rotel where I live so I usually throw in some green chillis or a jalapeno, depending what I have on hand. Great recipe!
Slice or dice the onion and sauté in a stock pot until soft (in cooking spray, a tablespoon of olive oil, or a little of the chicken broth).
Add remaining ingredients and simmer 15-20 minutes.
Serve with fat free sour cream and low-fat shredded cheese, if desired. If you like cilantro, chop a little and throw some on top of the soup. Also tasty (though not as healthy) topped with a handful of Fritos.
Great with a piece of hearty corn bread and fresh fruit.
This recipe can also be made in a crock pot. Sauté onions first, combine everything in a crockpot, and cook on low 5-6 hours.
Enjoy!