Spicy Grilled Tilapia W/ Creamy Grits or Rice and Mushroom Sauce
Ms B.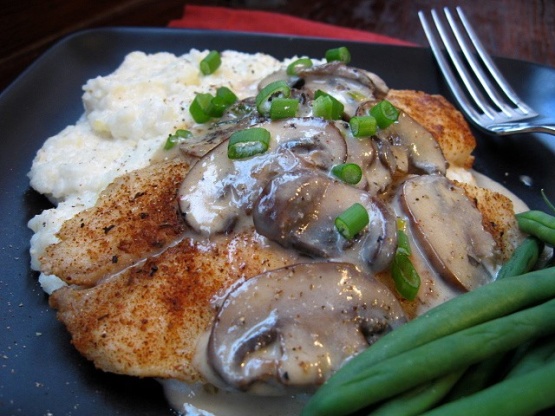 An easy and tasty recipe from Food Network. In order to make it more low calorie, I replaced butter/oil w. cooking spray, and heavy cream with fat free milk with a 1/2 tsp of flour. Grits I replaced with brown rice. It looks great on the plate, tastes fantastic, and is very low calorie and healthy. Instead of a regular grill, I broiled the fish and vegetables in oven spraying them first with cooking spray so that they would not get dry (used same timings as given in the recipe for grilling).

This was really good. I followed recipe as written except I used blackened seasoning on the fish. I would recommend that you double the sauce.
Mushroom Scallion Sauce: Melt butter in a large saute pan. Saute mushrooms and scallions for about 3 minutes. Stir in wine and heavy cream. Season with garlic powder, cayenne, salt, and pepper. Stir until sauce thickens slightly. Keep warm until ready to serve.
Grits: Bring milk to a boil. Gradually whisk in grits, butter, salt, and pepper. Stir constantly for about 3 to 5 minutes until grits thicken to desired consistency. Keep warm until ready to serve.
Grilled Broccoli and Carrots: Heat grill to medium. Toss broccoli and carrots in olive oil and season with garlic powder, salt, and pepper. Grill vegetables for about 6 minutes or until tender, turning them once halfway through. If room allows, grill tilapia at same time.
Tilapia: Heat grill to medium. Rinse and dry fillets and then rub with jerk seasoning. Grill tilapia for 3 to 4 minutes on each side. Remove from heat.
Plate entree by spooning grits on center of plate. Lay tilapia on top of grits. Lay the carrot slices on top of fish in a criss-cross manner and place broccoli stalk on the side of fish. Top with mushroom scallion sauce and serve immediately.