Spicy Grilled Sweet Potatoes
Nimz1466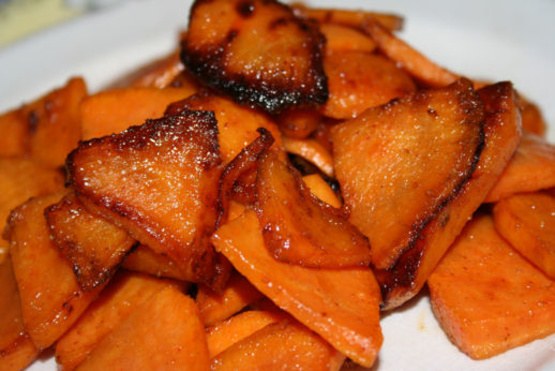 Adapted from Cooking Light. A healthy and different way to eat sweet potatoes, and one of my favorites. Goes well as a side with grilled meats or sandwiches. I like this because it is quick, easy, tasty, and excepting the cilantro I almost always have all the ingredients on hand. On top of all that, it's healthy and low-calorie. What's not to like?

Delicious! I put the coated potatoes plus a dollop of butter in a sprayed tin foil packet and cooked them on the grill with chicken breasts. They were so good! This recipe is a keeper.
Combine the spices in a small bowl (cumin, garlic powder, salt and red pepper). Mix.
Put the sweet potato slices in a medium bowl and drizzle with olive oil. Toss to coat. Sprinkle with the spices and toss to coat evenly.
Heat a stove-top grill or a large skillet over medium high heat. Remove briefly from heat, coat with cooking spray, and return to the heat. (The original recipe called for a grill, but I just use a skillet.).
Place sweet potato slices in the skillet, flipping occasionally, so that they are grilled crispy on both sides. They take about 10 minutes to cook as long as they are properly sliced to a thin 1/4-inch thickness.
When cooked, places in a serving bowl and sprinkle with the cilantro, if using. (The first several times I made this I had no cilantro, so did without. In the meantime I've made it with cilantro a few times, but it is just fine without it if you don't have any.).