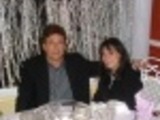 This is a hot peppery one but nothing you should need to call the fire dept. about. Note: if using wooden skewers make sure to soak them in water for at least 30 minutes prior to using. If you skewer often you may want to invest in some reusable stainless steel ones.
Directions
Combine all ingredients in a large bowl and add shrimp. Cover and chill at least 1 hour. Drain shrimp and discard marinade.
Thread shrimp on skewers and grill over medium heat until shrimp is lightly charred and just-cooked through, approximately 5 minutes.
Most Helpful
What a delightfully flavorful marinade! I grilled these and my DS barely left me any! He loves spicey, and these had a great flavor. I'll make them again for a quick, tasty summer nibble. *Made for ZWT8 2012*

Woowee, these were great and I made mine 'extra' spicy! I used the new Tabasco habanero sauce, which is a little on the fruity side, so I thought that would be complimentary to the other spices. They were really tasty, with the kick from the sauce heating it up just a bit! Of course, they don't have to be really hot, that was just our choice. I do love a recipe that gives me the option of cranking it up! I think I'll fix these for some friends this weekend, as they are perfect for a summer cookout! Thanks for sharing a great recipe, JackieOhNo!