lazyme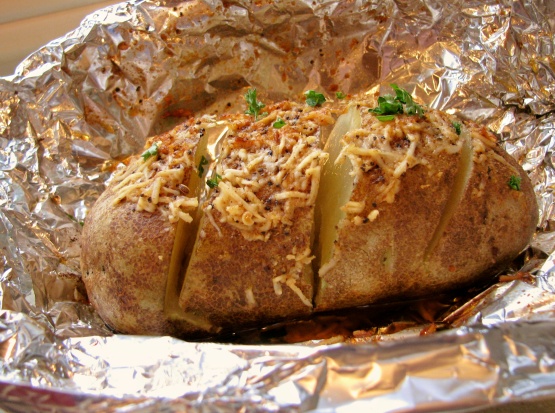 These potatoes take 10 minutes to prepare and feature a buttery mix of Montreal seasoning, Parmesan cheese, garlic powder and paprika. You could also do these in the oven as noted in the directions.

Great potatoes. I STRONGLY suggest spraying the foil with Pam as mine really stuck. I subbed Lawry's seasoned salt for the Montreal, garlic, and paprika. Aside from the sticking these could not have been better.
Prepare grill for indirect-heat cooking.
Place each potato on piece of nonstick foil.
On an angle, cut 4 slits in each potato, 3/4 of the way through.
Mix butter, seasoning, garlic powder and paprika; stir in parmesan.
Dividing mixture evenly, spoon over potatoes; wrap in foil.
Place on gril over indirect heat.
Cover; cook until tender, about 1 hour.
Unwrap potatoes; drizzle with any butter mixture in foil.
Sprinkle with parsley.
For a no-grill option: Preheat oven to 400 degrees.
Bake wrapped potatoes 1 hour.