Jostlori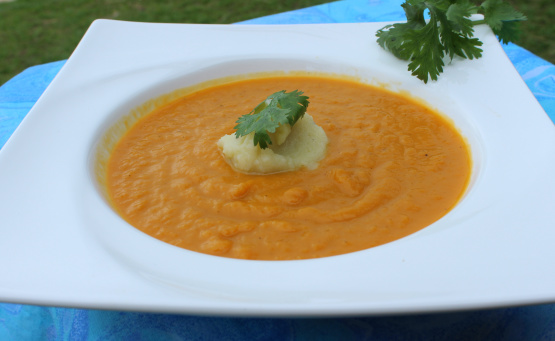 Great for using fall pumpkins. No pumpkins? No problem - use canned pumpkin and a bit less stock. Taken from Greek Cooking by Salaman.

Wow! I made this recipe for a ZWT9 challenge to adapt a recipe to vegan, and chose this one because it seemed fairly simple to adapt. I made it vegan by using vegetable broth in place of the chicken broth, and replaced the sour cream with a greek garlic and potato sauce called skordalia which was leftover from Recipe#503872 (awesome, BTW!). I only used 1/2 tsp cumin, and only 1 tsp of the oil to saute. The result was amazing. The soup is rich and creamy in spite of having virtually no fat other than a tiny bit of oil used to sauté the leek and garlic. When paired with the skordalia, it was a sensual delight. The soup is sweet and creamy, and the skordalia is tangy and garlicky. I kept taking bites with and without skordalia, not able to decide which was better. I came away knowing that this was the best of all worlds - I really CAN have my cake and eat it too! I will make this recipe again, both in it's original form and in it's new vegan adaptation. Thanks for posting!
Cut pumpkin into even sized chunks.
Heat oil, cook leeks and garlic until softened.
Add ginger and cumin, stir for another minute.
Add pumpkin chunks and stock, season with salt and pepper.
Bring to boil then simmer for 30 minutes or until pumpkin is tender.
Process soup in blender or with immersion blender.
Reheat gently, ladle into 4 bowls.
Swirl a Tbs of Greek yogurt into each bowl, garnish with fresh cilantro leaves.