Spicy Gingerbread Cookies
Camzmom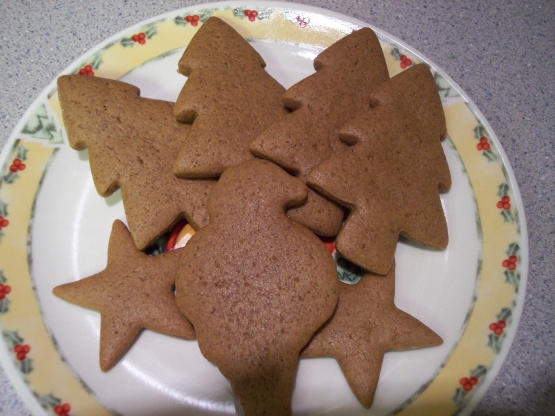 These are one of the best gingerbread cookies I have had, the addition of pepper gives these treat a wonderful kick. Preparation time includes refrigeration time.

This is my favorite gingerbread cookie...nice and spicy and easy to work with. This is an older Martha Stewart recipe that I have been making for years. This makes a ton of dough so those must be 16 huge cookies!!
In a large bowl sift together first three ingredients.
With your electric mixture and the paddle attachment, cream the softened butter and sugar. Add the spices, then the eggs and molasses. Slowly add flour mixture; combine at a low speed. Divide the dough in to thirds; wrap in plastic wrap. Chill in the refrigerator for at least 1 hour.
Preheat oven to 350°. Flour your work surface, roll dough to about 1/8 inch thick. Cut with your favorite cookie cutters into desired shapes. Transfer to ungreased baking sheets; refrigerate until firm, approximately 15 minutes.
Bake until crisp but not darkened, usually 8 to 10 minutes. Let cookies cool on wire racks, decorate if you desire, we like ours plain. Eat and enjoy!