Spicy Ginger Tea with Lemongrass
Satyne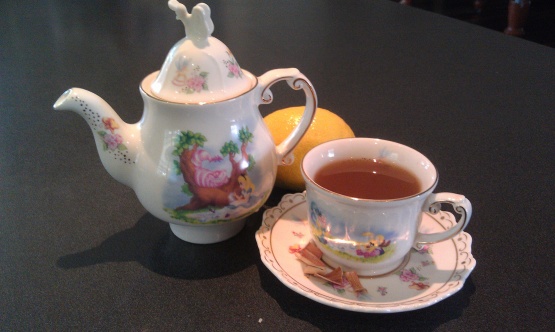 Great if you feel a cold or the flu coming on. You can serve Hot or Chill and pour into a tall glass This spicy tea is a great way to begin or end any meal or to enjoy between meals. Given ginger's renowned antinausea and anti-inflammatory properties, the tea is especially comforting when you're traveling by boat,car or airplane. I've also made it without adding the tea.

Delicious... The ginger and lemongrass give this a kick and it is refreshing at the same time. I used camomile tea as the basic tea. This will also be very good to drink when you have a cold, for its medicinal effect.It is easy to adjust to your own taste!
1

quart water
1⁄4 cup freshly grated gingerroot (no need to peel)

1

stalk lemongrass, cut lengthwise

2

bags herbal tea (or equivalent)
lemon, to taste (I squeeze a whole lemon in)
BRING the water to a boil.
Reduce heat and add gingerroot and lemongrass.
Simmer for ten minutes.
Turn off the heat and add 2 bags or about 2 teaspoonfuls of your favorite herbal tea mixture.
Taste and if it tastes too weak, continue steeping, if it tastes too strong add more water.
Strain and sweeten with honey and add lemon to taste.