Linajjac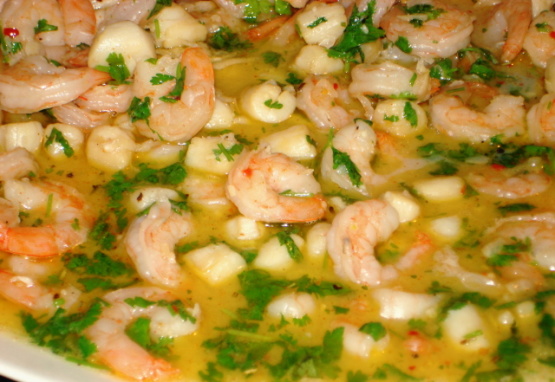 This is my favorite shrimp recipe that my family makes, and I think it may have originally been from Rachael Ray. You can have it over noodles, over rice or as a side dish to a steak. I usually cook it in a pan, but you can also put it on skewers and grill it. It's just a really good way to have shrimp!

I went ahead and doubled this recipe & also added baby scallops to it. I was out of lemons but used lime in place. Also I more than doubled the sauce, to mop up with crusty bread. Served it at our football party. The shrimp was liked by everyone! Thanks for sharing! :)
In a large saucepan, heat the olive oil and butter over medium heat.
In a bowl, combine the shrimp with the crushed red pepper, Montreal steak seasoning and salt and pepper.
Saute the garlic in the pan until it's a pale golden color, then add the shrimp.
Cook the shrimp until just pink, about 3 minutes. (Cooking time may be longer if not all the shrimp are in contact with the pan. Be careful not to overcook the shrimp or it will be rubbery!).
When the shrimp is done, remove the pan from the heat and add the lemon juice. Enjoy!