This comes from The Cuisine of California cookbook and was given to me by --Sheri-- in the last cookbook swap. This is great to kick up any kind of sandwich. I've also used it on a shrimp and avocado salad. It may be kept up to 5 days in refrigerator.
1⁄2 fresh pimiento (I used about a third of a cup of the roasted red bell peppers in the jar not packed in oil and dried) or 1⁄2 red bell pepper, seeded and coarsely chopped (I used about a third of a cup of the roasted red bell peppers in the jar not packed in oil and dried)
4 medium garlic cloves (certainly can use more)
3 egg yolks
1 cup olive oil
1 teaspoon kosher salt
1⁄4 teaspoon finely ground black pepper
1 pinch cayenne pepper (optional but highly recommended)
Directions
Immerse pimiento or red pepper in a pan of boiling water and boil 2 minutes. (Skip this step if used the roasted red peppers in a jar).
Remove from water with a slotted spoon.
Reserve.
While motor is running, add garlic cloves to a food processor fitted with the steel blade.
Process until pureed.
Add pimiento or red pepper and process until blended.
Add egg yolks and blend.
With blades turning, slowly pour in olive oil in a fine steady stream until sauce is thick and smooth and all oil is added.
Add salt, pepper and cayenne.
Taste for seasoning.
Refrigerate in a tightly covered container until ready to use.
Serve cold.
Most Helpful
I love making different mayonnaises and this one has a lot of great flavors that really complement each other. I used the jarred roasted pepper and 5 cloves of garlic. The cayenne really puts it over the top. However, the consistency was not as thick as I would like it. It seemed more like salad dressing. I did mix it with some tuna for a deliciously spicy garlic tuna salad.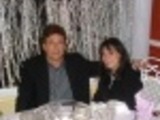 Terrific Recipe. The combination of pimiento and cayenne pepper really complimented each other. I will definitely make this again. Snuck it in on hamburgers and everyone loved it. TFS, ~V

Delicious! I roasted my bell pepper over the open flame of my stove and diced it up!!! Yummy on a sandwich!