Spicy Garlic Broccoli Rabe
ChefLee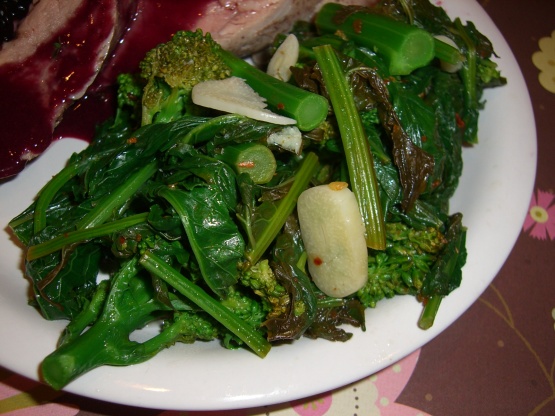 A very yummy dish I found in Cooking Light! If you like broccoli rabe, spicy and garlic...you'll LOVE this! Recommended pairing is potatoes and pork chops but I serve it with most anything! Alter the garlic and crushed red peppers to suit your tastes. We add lots more!

Made this as written last night. Very good. Even Mr. Picky had two servings.
Cook broccoli rabe in boiling water 2 minutes or until crisp-tender. Drain and plunge broccoli rabe into ice water; drain. Squeeze dry.
Heat 2 teaspoons oil in a large non-stick skillet over medium heat. Add garlic to pain; cook 1 minute. Add broccoli rabe, juice, and pepper to pan; cook 3 minutes, stirring occasionally. Remove from heat.
Drizzle with remaining 2 teaspoons oil and sprinkle with fleur de sel.