loof751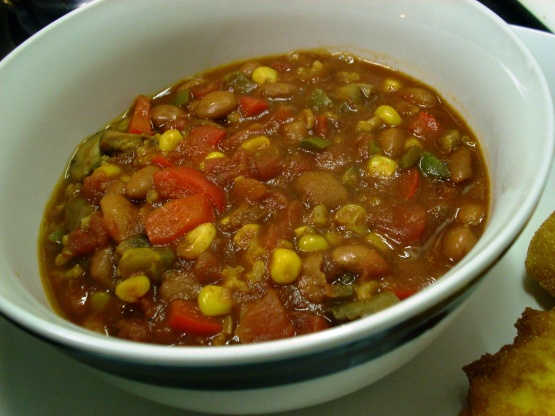 I love vegetarian meals, but my husband is just the opposite, so I like when I find a vegetarian meal that's hearty enough to please even my husband. This one fits the bill! I got this recipe from Cooking Light and changed it a little to suit our own tastes.

We are trying to eat healthier in our house and we were looking for foods with lots of flavour. While we did not find this overly spicy, we did think it tasted great and it was easy to prepare. I accidentally added the entire 920 ml carton of broth so I added a little extra corn and let the chili simmer a little longer to thicken up. I also used half the cumin called for and omitted the oil. I would definitely recommend this chili. Thanks for the recipe.
Heat oil in large Dutch oven over medium-high heat.
Add first 7 ingredients(onion through to coriander) and saute 3 minutes, until onion is softened.
Add remaining ingredients, reduce heat, and simmer 30 minutes.
The longer the chili sits the thicker it will become due to the bulgur.
Top individual bowls with sour cream and shredded cheese.