COOKGIRl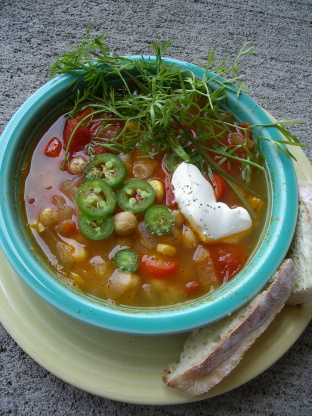 Quick and easy. Make it as spicy as you like!

i lost this recipe, i had printed it and dh tossed it in the trash. we loved it and i was upset could i could not re-find it. it is super and easy and delicious. i made it in the crock pot, did not use the red pepper, personal issues with bell peppers, but used a can of ro-tel HOT instead of the jalapeno and the bell pepper. great recipe. it is now in at least 5 of my cooksbooks.
In a large saucepan, heat oil. Saute the onion, red pepper, garlic and jalepeno (if using it) for several minutes until tender.
Add cumin, cayenne, and cilantro; stir and cook for about 1 minute.
Add broth, garbanzos, corn, and tomatoes. Heat to a boil.
Reduce heat and simmer on low for about 20 minutes.
Serve in bowls and dallop with some sour cream, if desired.