Spicy Gai Lan and Bean Curd Soup
Bergy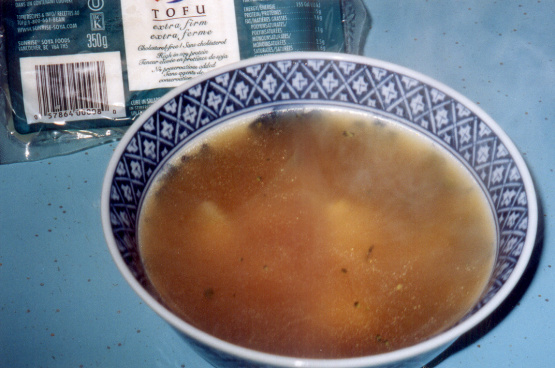 Gai Lan, which is known as Chinese broccoli, can be found at many Asian grocers. But if you can't find it, don't despair, fresh tender broccoli can be substituted in a pinch (it tastes quite similar anyway). This makes a wonderful light soup which can be totally vegetarian if you wish. It does turn out a bit spicy with the full three peppers sliced in (with the seeds)(I used fresh red Thai dragons in the recipe), so adjust the heat to your own taste. I think this also might be nice with chicken substituted for the tofu- if you choose to do that, add about 10-12 ounces of chopped cooked chicken where you would add the tofu. Enjoy!

I came across this recipe when I was trying to find something to make tofu taste good. I've never been a big fan of the stuff and I'm not sure this recipe converted me, but we very much enjoyed the spicy broth and broccoli. I used homemade duck broth for the soup base. I felt the soup needed just a bit more depth of flavour though, even with the spicyness, so I added a squeeze of lime juice and a tiny bit of fish sauce.
Bring broth, ginger, sesame oil, and soy sauce (if using) to a boil in a large sauce pan.
Add sliced gai lan and chopped chillies, return to a boil, then reduce heat and simmer for 4-6 minutes until crisp-tender.
Gently add tofu and chopped scallions to soup, stirring without breaking tofu.
Cook 2-3 minutes on low heat or until soup is heated though.
Garnish with chopped cilantro and serve hot.