Spicy, Fruity, Wild Vegetable Curry
Food.com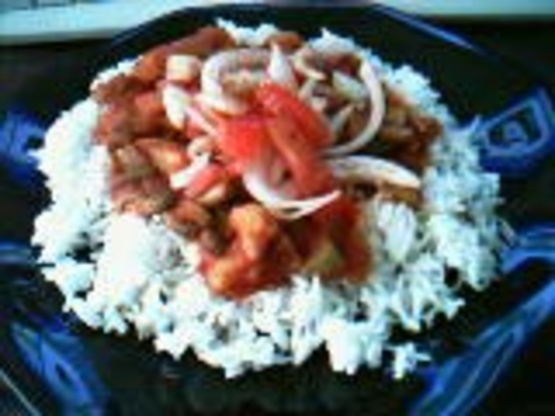 Except for the pineapple, this was a wonderful curry. The combination of flavors was very good, tomato, marmalade, curry powder, everything we like in a curry. I was a little sceptic about adding the pineapple, it just didn't do it for us. I will make this again, it's bound to become a standard vegetable side dish in my house, but next time I will leave out the pineapple.
Put two cups of water into a saucepan.
Add one cup of basmati rice.
Bring to a boil, then reduce heat, cover, and simmer for 15 minutes or until water is absorbed.
Chop one medium onion, one medium green bell.
pepper, chile peppers, and fry them in a little olive oil for 5-10 minutes until soft.
Add mushrooms.
Add 3 tablespoons curry powder (or varied to taste) to a cup of boiling water.
Add curry mix to skillet and simmer 5 minutes.
Add one cup tomato paste, 2 tsps marmalade, and 2 tsps tomato sauce (or to taste) to the skillet and stir well.
Crumble boullion cube in a cup of boiling water and add to skillet.
Adding more water or more tomato paste depending on desired level of thickness.
Add a cup of chopped cauliflower and a cup of pineapple chunks to the mixture, cover and simmer for 15 minutes.
Chop remaining onion and tomato, tossing both into a separate bowl with the paprika.
Serve as a garnish.