Spicy Fruit Finishing Glaze for Barbecue
Peter J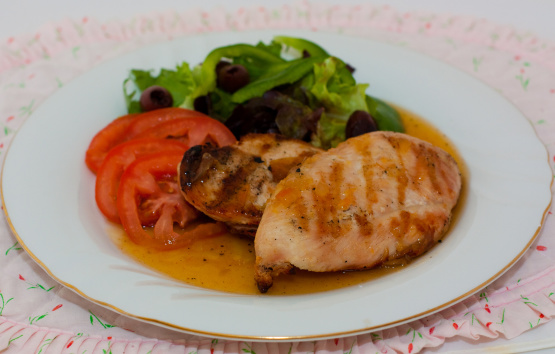 A sweet and spicy finishing glaze that's great on barbecued pork chops, ribs, chicken, or ham. We think it's much fresher tasting than store-bought. Can also be used as chutney.

Yum, really nice sweet yet tangy combination! Often I don't think of using a finishing glaze with BBQ meat but it both tastes great and saves a lot of clean-up over applying a sauce / marinade during cooking. I got a bit impatient and had a sample over chicken as photographed before it had fully cooled and thickened. I'm looking forward to having the remainder over a variety of meats during the next few days and coming up to Christmas might have to make another batch because it would also be great with turkey and ham.
In a small saucepan over low heat, stir together water and the next 10 ingredients. Simmer, uncovered, until onion bits are very soft, about 5 minutes. Add preserves and simmer, uncovered, about 20 minutes. Mixture may appear a little thin, but will thicken.
Cool to room temperature then refrigerate until ready for use. Refrigerate up to 2 weeks.
Apply as you would barbecue sauce in the last few minutes on the grill.