Spicy Fried Eggplant (Aubergine) in Cornmeal
Jacki A.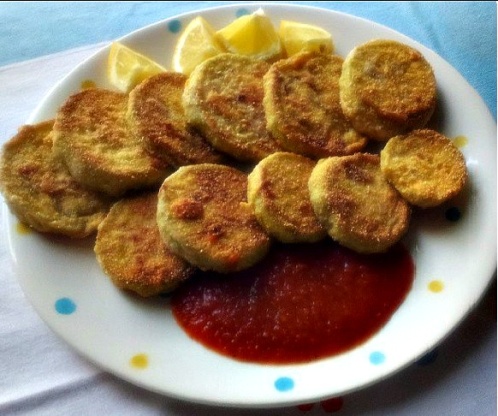 This is one of my favourite ways to prepare eggplant. Can also substitute as meat in a vegetarian diet.

I made this as an appetiser for friends, as my friend's DH said he didn't like eggplant - he loved it! I sprayed with olive oil & baked in the oven for 20 mins, with great results. Served with a salsa ranch dip. Loved by all. Will definitely make this again. Thanks for sharing this keeper.
Cut eggplant into 1cm/ 1/2 inch slices.
Sprinkle lightly with salt and sit in colander for 30 minutes and allow to drain.
Wipe slices dry on paper towels.
Beat egg lightly in bowl with milk, spice and seasoning.
Spread cornmeal on a plate.
Heat oil for frying.
Dip each piece of eggplant in egg mixture and allow excess to drip off, dip the slice in the cornmeal and shallow or deep fry until golden brown.
Drain on kitchen paper and keep warm until all slices are fried.
Serve hot.