Spicy Filet Mignon With Grilled Sweet Onion
Pam-I-Am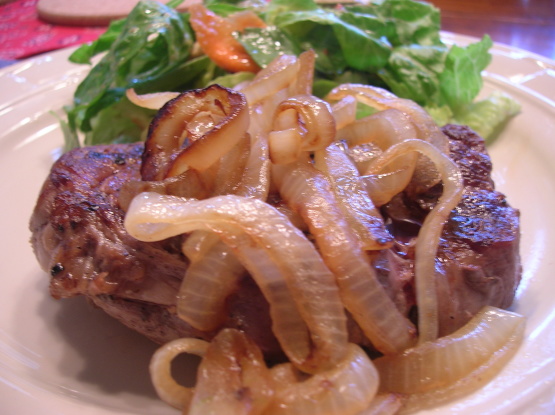 From Cooking Light (May 2005).

I have never had a filet mignon I did not like. This was good, but not my favorite preparation. Next time perhaps I will try it grilled like one of the other reviewers who rated this recipe outstanding -- that could be the differences. I liked the mixture of spices, and the onion topping.
Heat a grill pan over medium-high heat.
Coat pan with cooking spray.
Add onion; sprinkle with 1/8 teaspoon salt and 1/8 teaspoon black pepper.
Cook 8 minutes or until browned, stirring occasionally.
Remove from pan; keep warm.
Combine garlic powder and next 5 ingredients (everything except the meat) in a small bowl; sprinkle this mixture over both sides of beef.
Add beef to pan; grill 5 minutes on each side or until desired degree of doneness.
Serve topped with grilled onions.