Spicy Cucumber Salad With Peanuts
Debbwl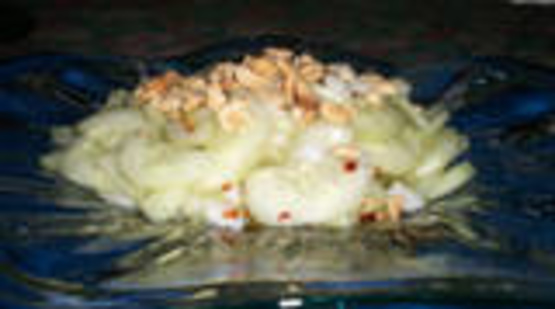 Try this Thai-inspired salad with chicken or fish. The sugar in the dressing balances the heat of the red pepper. From Cooking Light. (Prep time doesn't include 1 hour for cucumber to drain).
Place the cucumber slices in a colander; sprinkle with salt. Toss well. Drain 1 hour.
Place cucumber slices on several layers of paper towels; cover with additional paper towels. Let stand 5 minutes, pressing down occasionally. Rinse and pat dry.
Note: Salting the cucumber removes moisture so they'll be more crisp in the salad.
Combine vinegar, water, sugar, and pepper in a small saucepan. Bring to a boil. Reduce heat; cook until reduced to 1/3 cup (about 10 minutes). Remove from heat; cool. Stir in onion.
Combine cucumbers and vinegar reduction in a medium bowl; toss well. Sprinkle with peanuts.